1070 W Grove Street

The Sparrow
A Type 1 Participation Program Project that improves pedestrian safety and access to a renovated motel and the public amenities it provides.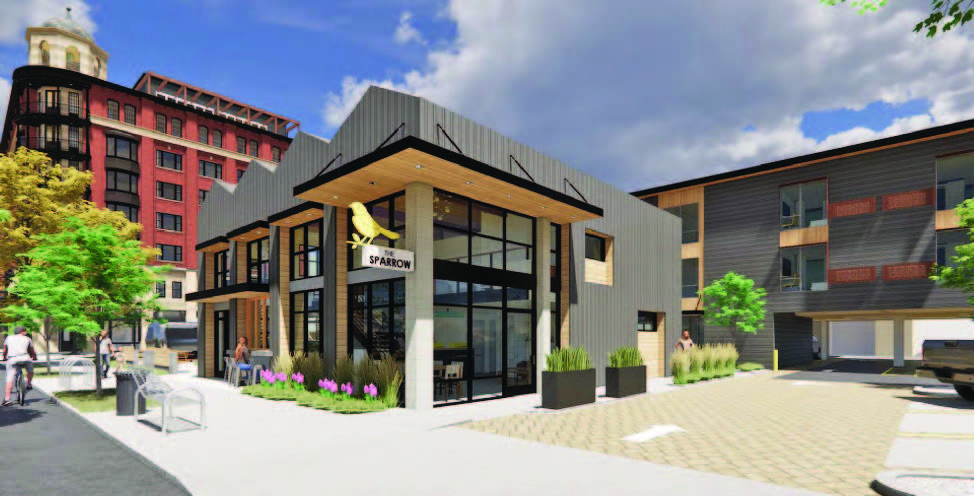 Background
The Sparrow redevelopment project is a proposed boutique hotel that consists of the renovation of the former Safari Inn located at 1070 W. Grove St., neighbor to the One Nineteen condos, the recently renovated B Side Apartments and the Kount building. The 35,000 square-foot project will include the renovation of 61 existing rooms and the addition of seven more. The planned coffeehouse in the lobby and permanent food truck out front will provide services for both hotel guests and the public. Shared outdoor seating between the food truck and coffeehouse engages with an inviting retail plaza at the corner of 11th Street and Grove Street. The project involves placemaking improvements in the alleyway, including building façade upgrades and public improvements. 
Project Partnership
Based out of Bozeman, Mont., Imperial 700 LLC is a subsidiary of Nest Partners, which focuses development efforts on renovating downtown buildings into energized community hubs. The Sparrow will be the fourth "bird" in their "nest" of hotel projects, which includes The Finch in Walla Walla, The Lark in Bozeman, and the soon to be completed The Wren in Missoula.
Public improvements submitted for CCDC assistance consist of improvements to the alley, including subbase replacement and new pavement, curb and gutter repairs and scored concrete sidewalks. Basalite pavers placed in a herringbone pattern throughout the length of the alleyway will enhance the alley and provide improved safety and walkability. Erik Nelson, Nest Partners owner, is coordinating with adjacent landowners to include private art installations and/or murals in the alleyway after upgrades have been completed to expand on the placemaking from The Sparrow and the adjacent CCDC Capital Improvement Projects on Grove and 11th Streets.
Type 1 projects are eligible for reimbursement of 100 percent of public improvement costs up to $200,000, matched by private investment and subject to Board approval.
While the Type 1 Program does not require scoring for participation, this project advances several urban design objectives encouraged by the Agency's District Plan, including:
Reuse of existing building
Conversion of surface parking to retail plaza space
Alleyway upgrades providing improved pedestrian connectivity between blocks
Tuck-under parking in rear of building
Placemaking that creates engagement with the street to enhance walkability
Project Summary
Located on the northwest corner of Grove and 11th streets, The Sparrow hotel will include 61 renovated rooms and add seven new rooms
The hotel will include a coffeehouse in the lobby, permanent food truck and outdoor seating, creating a public plaza
$10 million estimated total development costs
Estimated $83,255 in eligible expenses
Estimated job creation of 30 permanent positions
Alleyway upgrades, including murals
Project Timeline
Contact
For specific project questions or concerns, please contact CCDC Project Manager Alexandra Monjar
---