901 N 27th Street

27th Street Crossing
A Type 1 Participation Program Project that supports public streetscape improvements for a new mixed-use residential infill project.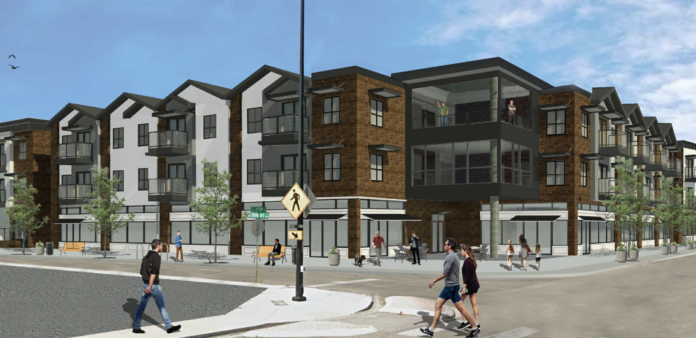 Background
27th Street Crossing is a mixed-use commercial and residential development located at 901 N 27th Street. The project consolidates eight underutilized parcels and replaces several vacant buildings with new construction consisting of four three-story buildings with 65 apartments and approximately 7,000 sf of ground-floor retail oriented to the corner of 27th and Stewart and interfacing with a pedestrian plaza. The residential units will range in size from 600 to 1,000 square feet with a mix of 43 one-bedroom and 22 two-bedroom layouts leased at market rates.
Construction is expected to be completed in December 2023. Join the Wait List HERE.
Project Partnership
This project addresses a primary strategy for the 30th Street district by redeveloping vacant land with a mix of residential units and prioritizing and building on neighborhood character with a public plaza and ground-floor retail space.
901 N 27th Street is designated for CCDC's Type 1 Participation Program. Under this program, no scorecard is used and projects are eligible for reimbursement at 100% of project public improvement and streetscape costs up to $200,000, subject to Board approval. The public improvements that are eligible for CCDC funding include streetscape improvements on
17th Street, Stewart Avenue, and Jordan Street with street trees, benches, and bike racks. The alley will also be widened and improved.
Project Summary
Located on the north-west corner of 27th Street and Stewart, at 901 N. 27th Street
Three stories, mixed use with 65 apartments, 43 one-bedroom units (~600 sf), and 22 two-bedrooms (~1,000 sf)
7,000 square feet of commercial/retail space oriented to the corner of 27th and Stewart
95 parking stalls – a mix of single-story structured, tucked under and rear surface stalls
68 bicycle parking spaces – some in the right-of-way and others on site and covered
Estimated job creation of 150 construction jobs and 20 permanent jobs
$12,152,000 estimated total development costs
$439,631 estimated for eligible expenses to improve sidewalks and storm water mitigation, and widen the alley
Contact
CCDC Project Manager, Alexandra Monjar, is overseeing the 27th Street Crossing project.
---